Deep Drawing Manufacturer
Deep Drawing Manufacturer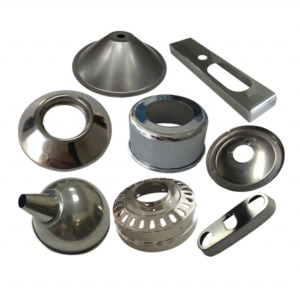 Through many years of business, as a Deep Drawing Manufacturer,we have served nearly every market by successfully delivering precision Deep Drawing products able to meet the most stringent industry requirements.
The depth of our engineering, material and metalforming experience is applied when challenged by a customer's unique metal part requirement. Chances are, we have seen it before — and if not, no firm is more qualified to quickly and economically find the right solution.
We are a recognized professional maker in the deep drawn stamping industry through our expertise, technical ability and reputation for quick response to our customers.
What is Deep Drawn Stamping ?
Deep Drawn Stamping — also called pressing — involves placing flat sheet metal, in either coil or blank form, into a stamping press. In the press, a tool and die surface form the metal into the desired shape. Punching, blanking, bending, coining, embossing, and flanging are all stamping techniques used to shape the metal.
Before the material can be formed, stamping professionals must design the tooling via CAD/CAM engineering technology. These designs must be as precise as possible to ensure each punch and bend maintains proper clearance and, therefore, optimal part quality. A single tool 3D model can contain hundreds of parts, so the design process is often quite complex and time-consuming.
Once the tool's design is established, a manufacturer can use a variety of machining, grinding, wire EDM and other manufacturing services to complete its production.
Consider the advantages we can offer you
Your one-stop Deep Drawing Manufacturer for all your contract manufacturing needs for precision manufactured parts. We offer complete capabilities–engineering, tools, fixtures, prototyping, precision stamping, precision CNC machining, die casting, sheet metal cutting, CNC bending, CNC punching, welding and assembly.
Your source for complete small, medium or large sized mechanical assemblies, including assembly, insertion, welding,grinding,plating, powder-coating and packaging.
We take pride in our Just-in-Time record. All our employees are dedicated to manufacturing your part to your specifications every time.
We want to exceed our customer's expectations. Whether your project is large or small, we commits all our resources to ensure your project meets your expectations.
We are the precision metal working expert; we do the tight tolerance, complex parts that others can't do.
We recognize that "Quality" and "Service" are not enough, we are committed to you.We aren't satisfied until you are.After all, it's your product that we are manufacturing and your success is our success.
Our Fabrication Service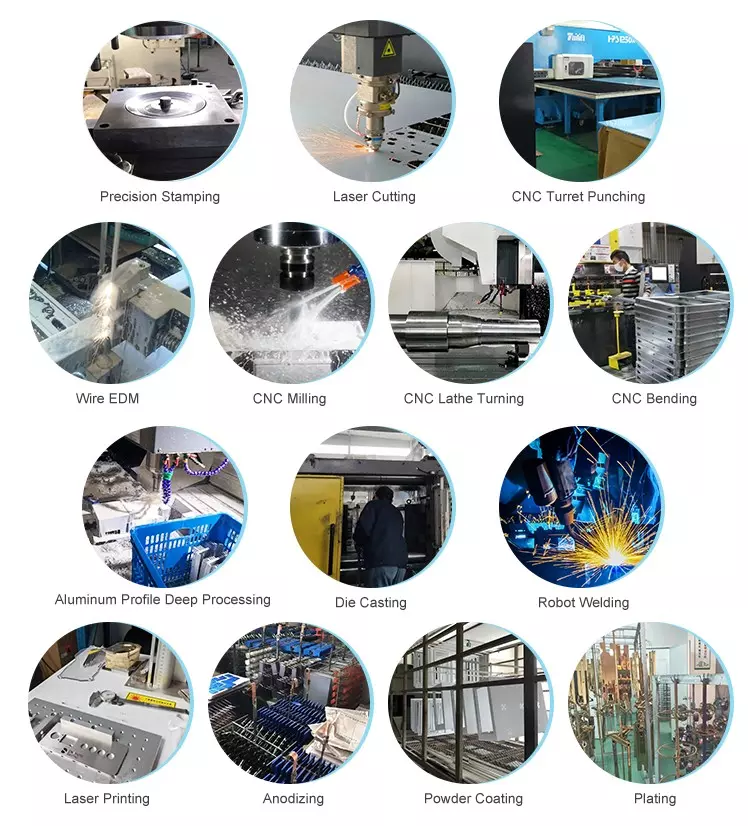 1.Design products and components according to your idea;
2.Produce products and components according to your design drawings or original samples;
3.Do surface treatments for products and components;
4.Assemble the whole products as long as you have such request.
Deep Drawing Manufacturer Process
1.Quotation: Normally, your inquiry can be quoted within 6 hours as long as we confirm your drawing (IGS, STEP, STL, PDF, DWG etc)and information (Material, Tolerance, Surface Treatment and QTY).
2.NDA Signing: With us, your business and money will be safe. So, before cooperation, NDA is avaliable to you.
3.Sample Testing: To ensure mass production smoothly, sample need to be tested before production.If products no need moulds, sample can be made within 15 days, fastest 3 days. If need moulds, it normally takes 20-30 days to make moulds and samples.
4.Mass Order Production: During production, we can give you updates by pictures and video.
5.Assembly&Packaging: We can help you assemble the whole product if you need. Packaging assure to be 100% safe, because we always do packaging test.
6.QC System:
1).Checking the raw materials before production;
2).Strictly inspect the processing during production;
3).Testing the half-finished products before surface finishing;
4).Do inspection one by one before delivery. Inspection Report can be provided for u.
7.Shipping: by express (DHL, TNT, UPS, FEDEX etc), by air or by sea
8.After-sale Service: Once you recieve the goods, please open the packaging and check within 7 days. If there're quality problems with our mistakes, we'll arrange to remake or return money to you. YLD will do the best to meet your satisfaction!
Moulds Engineering Capability
We havehigh skilled moulds design engineering for your custom products;
We produces custom moulds in house with our advanced equipments;
We handles moulds maintenance with our own in-house staffs to ensure that moulds are consistently running to exact specifications at all times;
Deep Drawing Manufacturer Capability
* Up to 1000 Tons
* Tolerance: +/- 0.02mm
* Materials can be stamped: metal sheet, metal strip, metal pipe, aluminum profile, metal wire mesh etc

* We have nearly 100 CNC machining centers and CNC turning lathe that can produce precision CNC components from small to big,
simple to complex;
* Tolerance up to +/-0.001mm
* Material can be stainless steel, aluminum, steel, brass, copper, titanium, plastic etc.

* We have nearly 50 turning lathes that can produce precision components from small to big, simple to complex;
* Tolerance up to +/-0.005mm
* Material can be stainless steel, aluminum, steel, brass, copper, titanium, plastic.

* Thickness steel up to 25mm, stainless steel up to 20mm, aluminum up to 12mm;
* Tolerance:+/- 0.1mm
* Materials can be laser cut: sheet metal steel, stainless steel, copper, brass, bronze etc. And various metal tubes.

* We're very skilled in aluminum, steel and stainless steel welding;
* We have ABB welding robots in house;
* We have high skilled welders with over 10 years welding experience.
* Welding ways: Spot Welding, Laser Welding, TIG Welding, MIG Welding, Butt Welding etc

Aluminum Profiles Deep Processing

We customize the aluminum extrusions from the aluminum profiles material factory. Then take to our factory for deep processing
according to your design requests:
Precision Cutting, Punching, Stamping, Drilling, CNC Milling, Machining, Welding etc.

Die Casting, Precision Casting, Drilling, Perforating, Threading, Tapping, Riveting, Knurling, Spinning, Roll Forming etc
Deep Drawing Manufacturer Secondary Operations
* Deburring work by machines,then by hands;
* As long as you need no scratches on the products, we can use the film protected material for products during production;
* Remove sharps of the products;
* Ultrasonic cleaning after production.

Powder Coating, Polishing, Brushing, PVD Plating, PVC Coating, Ceramic Coating, Chrome Plating, Nickel Plating, Tin Plating,
Copper Plating, Silver Plating, Sandblasting, Anodizing, Dacromet, Baking Varnish, Electrophoresis Coating, Zinc Plating, Hot Dip
Galvanizing.

Laser Engraving, Silk-screening etc

We also provide products assembly service after each component production.

* Design packaging according to your products;
* Make the packagings according to your requests;
* Print your LOGO on the packaging as long as you need;
* Other request according to your need.
http://www.chinacustomstamping.com/wp-content/uploads/2022/02/Deep-Drawing-Manufacturer.jpg
1000
1000
adminmf
http://www.chinacustomstamping.com/wp-content/uploads/2017/09/logo-1.jpg
adminmf
2022-02-09 04:43:27
2022-02-09 04:47:05
Deep Drawing Manufacturer