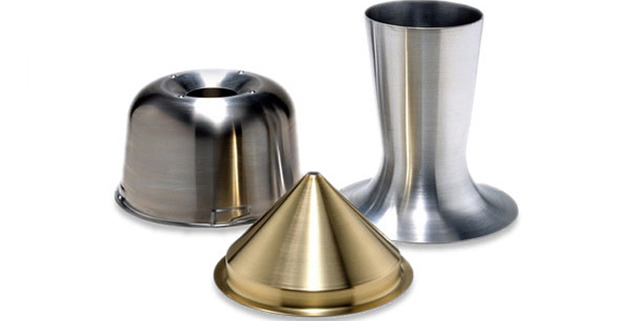 Aluminum CNC Spinning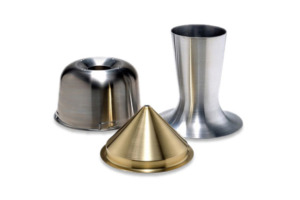 We are professional manufacturer for Aluminum CNC Spinning. As you know well,Spinning is a kind of metal deep drawing,which is made by CNC Machine. The common deep drawing is made by dies.
For big quantity and precise dimension items, we need it to be deep drawn dies. However, some customer may don't want to made big quantity and don't want to invest a lot of money on dies. Under such situation, CNC Spinning is the best choise.
It's tooling cost is low.However, the production is higher compare with deep drawing dies. Anyway. it depends on your projects.
Aslo, aluminum is most regular material for spinning. Because, it's soft and easy to be made.
Aluminium Hemisphere made by CNC Spinning for industrial machinery use.
Special tooling treatment to ensure the inside roughness (Ra) meet the requirement of Optical Integralsphere Part.
CNC Spinning is an efficient & effective fabrication method to make complex metal part which
cannot be made by the conventional pressing or deep drawing method.
Low tooling cost for the ease of product prototype and trial order of new product development.
What is CNC Metal Spining
Metal Spinning is to fix the flat metal plate or hollow material on the die of the CNC spinning machine. While material rotates with the spindle of the machine, it is pressurized on the material with a rotating wheel or driving rod to produce local plastic deformation. Spinning can complete the complex geometric features of various complex sheet metal parts. It is a special method of sheet metal forming. The spinning method can be used to complete the geometric features of complex sheet metal parts such as deep drawing, flanging, necking, bulging and crimping.
Many materials can be spun including brass, mild steel, stainless steel, copper and aluminium. Some examples of products that have been manufactured by metal spinning are; pots & cookware, lighting, gas cylinders, bells, etc.

Spnining Material
| | |
| --- | --- |
| | AL6061, AL6063, AL6082, AL7075, AL5052, etc. |
| | Mild steel, Carbon steel, 4140, 4340, Q235, Q345B, 20#, 45#, etc. |
| | A3, 45#, 1213, 12L14, 1215, etc. |
| | SS201,SS301,SS303, SS304, SS316, SS416, etc. |
| | HPb63, HPb62, HPb61, HPb59, H59, H68, H80, H90, etc. |
| | C11000,C12000,C12000, C36000, etc. |
Surface treatment
| | |
| --- | --- |
| | Zinc plating, Oxide black, Nickel plating, Chrome plating, Painting, Powder Coated, etc. |
| | Clear Anodized, Color Anodized, Sandblast Anodized, Powder Coating, Painting, Chemical Film,Brushing,Polishing, etc. |
| | Brush, Polishing, Nickel Plating, Chrome Plating |
| Copper & Brass Sheet Metal | Brush, Polishing, Nickel Plating, Chrome Plating |
http://www.chinacustomstamping.com/wp-content/uploads/2022/04/Aluminum-CNC-Spinning.jpg
426
640
adminmf
http://www.chinacustomstamping.com/wp-content/uploads/2017/09/logo-1.jpg
adminmf
2022-04-23 02:32:41
2022-04-23 02:32:41
Aluminum CNC Spinning